Catching VFD Failures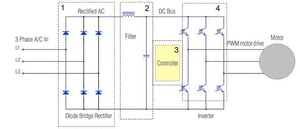 Read three of PMI's methods for analyzing recorded Variable Frequency Drive data in order to catch VFD failures.
VFD complaints from customers is a common issue for utilities. Determining if a troublesome VFD is reacting to legitimate voltage quality issues, or having internal problems of its own is critical towards solving the complaint.
Three methods of analyzing recorded VFD data are shown here. The voltage/current unbalance ratio may be used to suggest that a VFD is drawing more unbalanced current than expected for a given incoming voltage.
The raw waveforms can be conclusive if the VFD is about to fail in a severe case, especially if the voltage unbalance is low and the monitored current does not include other loads.
The parametric graph, while not as commonly used as other data presentations, is perhaps the best at showing the true state of the VFD diode bridge regardless of incoming voltage quality.
This White Paper Includes:
VFD Front End
Voltage & Current Unbalance
Voltage/Current Unbalance Ratio
Raw Waveform Analysis
Parametric Graph