Skin and Proximity Effect on Power Transmission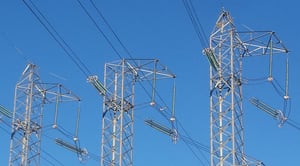 Learn about skin and proximity affect on power transmission, and how to reduce their losses.
At DC and AC, the resistance of a conductor is inversely proportional to the "effective" cross sectional area of a conductor. With AC however, the skin effect causes the effective cross sectional area to decrease, thus causing the resistance to increase as the frequency increases.
Skin depth is inversely proportional to the square root of the frequency. At power line frequencies, these losses are fairly small but need to be considered for long high power transmission lines.
There are four major factors that affect the skin effect losses. They are the conductor's permeability (which is determined by the conductor material), the AC frequency, the diameter of the conductor, and the shape of the conductor.
Proximity effect compounds the losses by reducing the effective cross sectional area even more than the skin effect losses alone.