Our popular case study covers the basic concepts for popular types of UPS units, how loads affect a UPS and PQ and why it's important to match a load to UPS.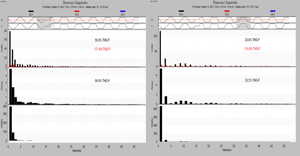 A simplified formula for this estimation is shown in this white paper.
There are different types, classes, and sizes of UPS. Finding the appropriate UPS for a specific load requires researching the load's requirements.
Some loads are more sensitive to power quality than others. Loads themselves can actually affect the power quality of the UPS and, depending on the load's linearity, its power factor as well.
The UPS needs to have ample capacity and headroom to handle loads with high crest factors, imperfect linearity and power factor. A good target for the load handling capacity is somewhere above 40% and below 80% of the UPS maximum load capacity.
At very low load capacities especially with continuous type UPS, the efficiency suffers. However, it is important to always have a little extra headroom to prevent the UPS from being overloaded...
This White Paper Includes:
Load Limits
Types of UPS
Classes of UPS