Using the Flicker Curve Worksheet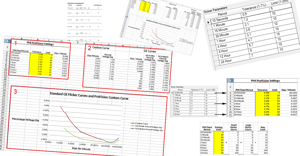 Learn how to customize flicker settings using ProVision's Flicker Curve worksheet.

In this white paper, we will discuss how to use the PMI Flicker Calculator worksheet to visualize and assist in customizing flicker settings in ProVision.
This worksheet was briefly mentioned in the white paper titled "Customizing the GE Flicker Curve" and is a very useful tool to have available when altering these settings.
Here, we introduce a reorganized version of the worksheet...
This White Paper Includes:
Worksheet Organization
Transferring Provision Settings
Customizing the Flicker Curve
Effects of Changing Tolerance Levels