Analyzing Voltage Sags with Event Change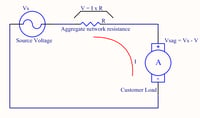 Understand how to use event change to identify and analyze voltage sags.
Identifying the sources for voltage sags can be a somewhat complicated task.
Graphs such as waveform capture can obscure the essentials with an RMS-based voltage sag.
PMI provides a triggered record type created specifically for capturing voltage events, and specifically to determine if the load being monitored is the cause of the event.
This White Paper Includes:
Voltage Sag Causes and Definition
Event Change
What to Look For