Canvass Multiburst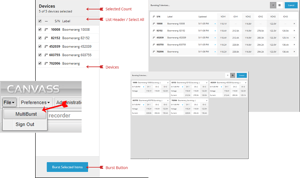 Leverage multiple devices to resolve problems with electrical systems using the Multiburst feature in Canvass.
The Canvass "Burst" feature allows the Canvass user to request and receive near-real-time voltage, current, and power readings in a web browser.
Burst is supported by many PMI devices, including the Boomerang, Javelin, Revolution, and Eclipse.
This Whitepaper Includes:
What is Burst and How it Works
What is Multiburst and How to Use it
Practical Application