Impact of Solar and Electric Vehicle Power Systems on Residential and Utility Voltage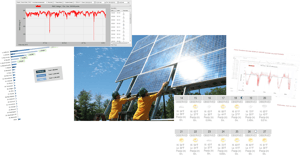 Learn how one electric utility in Massachusetts partnered with PMI to understand the impact of solar photovoltaic installations.
There is no doubt that using that solar PV generation for residential homes has come a long way over the last 10 years.
For NAED and the State of Massachusetts, the cost of power for residents and a growing demand for more power is a key factor.
As a progressive utility provider, NAED is setting the standards for future partnerships with its residential and commercial customers..
PMI is proud to partner with NAED to support important projects on renewable energy by providing leading edge equipment.
Having 24 x 7 access to detailed power studies is providing North Attleboro Electric Department with invaluable data.
This White Paper Includes:
Initial Conditions
Residential PV Power Trending
Solar PV Power Profile