Catching VFD Failures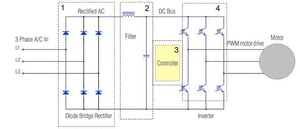 Read our methods for analyzing recorded Variable Frequency Drive data to catch VFD failures.
Variable Frequency Drives (VFDs) present unique challenges as both a source of PQ problems as well as being sensitive to incoming voltage quality.
A frequent complaint with a troublesome VFD is the controller taking the drive off line due to unbalanced current draw. This can be caused by high voltage unbalance from distribution, or from an impending failure in the VFD itself (which can then cause voltage unbalance).
Separating the cause and effect of unbalanced voltage and current with a VFD is described here, and is crucial towards eliminating the root cause of the complaint.
This Whitepaper Includes:
VFD Front End
Voltage & Current Unbalance
Voltage/Current Unbalance Ratio
Raw Waveform Analysis
Parametric Graph