Conservation Voltage Reduction During Peak Loading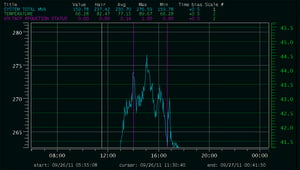 Our popular case study details a conservation voltage reduction plan implemented by the Johnson City Power Board to save on peak demand charges.
The Johnson City Power Board installed 27 Boomerang devices on the system to maximize the benefit of conservation voltage reduction while maintaining above minimum voltage on the customers' point of service.
The conservation voltage reduction program will lower JCPB's cost of providing power, therefore driving rates down.
The Boomerang solution allows for accurate and real-time measurements of end of line voltages and is easily relocated at minimum cost as the system changes.
The conservation voltage reduction program in conjunction with the Boomerang devices allows JCPB to operate its power system in a more efficient manner, serve the customers better by keeping rates low, and help the environment by reducing carbon emissions from fossil fuel burning generation plants.
This White Paper Includes:
Context
Problem Definition
Goals of Equipment Application
Solution