Customizing the GE Flicker Curve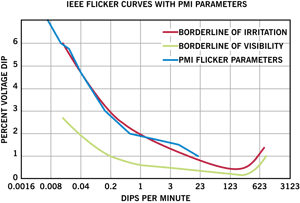 Read how to use custom flicker curve settings to capture flicker events.
In many situations it can be beneficial to customize the flicker curve to meet the needs of the individual situation or to existing "house" standards already developed and in use by the utility.
The flicker monitor available on PMI recorders has settings that allow the default IEEE Standard 141 (GE Flicker curve) to be customized based on a user specified settings. This paper will help users understand the steps necessary to change the default flicker curve settings and the situations in which this need might arise.
This Whitepaper Includes:
Flicker Perception and Causes
What is the GE Flicker Curve?
Reasons to Define a New Curve
GE Flicker Curve Default Settings
How to Define New Flicker Parameters
Further Customizations