Finding the Source of Harmonic Problems Using Harmonics and Phase Angle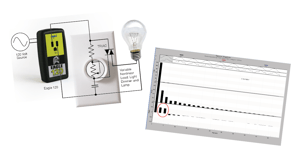 Identify the source of harmonic distortion and why it is important for distribution system control.
With measurements from only one position, using a point of common contact between the source and loads, it would be very difficult if not impossible to determine the source of harmonics based on phase angle.
With a simple setup using a light dimmer used as a nonlinear load it is possible to show that the apparent direction of power flow in the harmonics does not indicate which direction the harmonics source is coming from.
Here, the power flow direction of the 3rd and 5th harmonic was made to vary to and from the load simply by changing the dimmer position. In each case, the dimmer was the source of the harmonics, so harmonic power flow cannot be a reliable indicator here.
With a distribution system supplying multiple branch loads from a common contact point, it would not be possible to use this method to determine the source of the harmonics. It would then be necessary to implement another type of strategy to answer the question of true origin of the harmonic source...