Interpreting Total Harmonics Distortion (THD)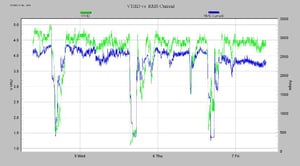 Read the relationships between total harmonic distortion (THD) and root mean square (RMS) to help identify harmonic sources.
Voltage and current THD are essential in quantifying and tracking down harmonic loads. The relationships between RMS voltage and current, and voltage and current THD can be complex, but offer important clues pointing to the root harmonic offender...
This Whitepaper Includes:
Definition of THD
THD & Voltage