Recommendations for Voltage Sags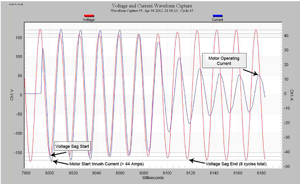 Learn how to use PMI tools to analyze current and voltage data and identify the root cause of voltage sags.
Voltage sag is one of the most common power quality problems.
The consequences for not troubleshooting a voltage sag complaint isn't the resulting damage that can be done to electrical equipment, but rather the resulting significant loss of revenue due to production line stoppages or process control interruptions.
Some examples are presented here that cover various sources of voltage sag as well as how to select and configure a PQ recorder for data collection.
This White Paper Includes:
Basics
Acceptable Voltage Level
Sources & Symptoms of Voltage Sags
Interval Graph Examples
Waveform Capture Example
Recommendations