Understanding Variable Frequency Drives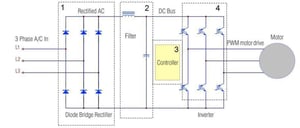 Read about the various types of VFDs, and what their purpose and advantages are.
This paper covers what a variable frequency drive (VFD) is, the different types of VFDs, their functions, and their benefits. Also covered are issues related to VFDs, some solutions to VFD issues, and how VFDs can both affect and be impacted by the power quality of the distribution system.
This Whitepaper Includes:
Components of a VFD
Power Inversion
Benefits of Using a VFD
Problems Produced by VFDs
Guidelines & Tips for Monitoring VFDs
Solutions for Resolving VFD Harmonic Problems